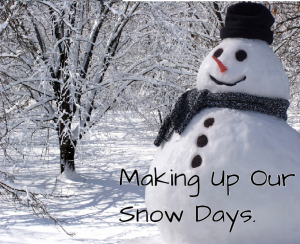 1/18/17
Dear Families,
As you are certainly aware, the school district lost instructional days to weather on December 8, 15 and 16, 2016 and January 9 and 11, 2017 and the School Board indicated their desire to make up the lost instruction time. Because a clause in the employee contract calls for the district to first consult with the labor associations, district staff worked closely with the association representative and considered a number of options. District staff and Board members also received inputs from parents and employees. The general consensus was to make up as much instruction time as possible without having to extend the student school year into the week of June 19-23.
On January 13, Board Members approved a plan that will make the February 20 Presidents Day an instructional day and make the April 7 Teacher Work Day an instructional day. Beginning February 1, 20 minutes will be added to every Wednesday for the rest of the school year. This means that on Wednesdays, our school will release students at 2:55 pm. Monday, Tuesday, Thursday and Friday schedules were not changed. Wednesday bus schedules will be adjusted so that drivers will be delivering students 20 minutes later.
Also, one day was added to the end of the school year so that classes will end on Friday, June 16 instead of Thursday, June 15. June 16 will be a traditional half-day.
The Board did not consider using the January 16, 2017 Martin Luther King Jr. day as a make-up day. Oregon law (ORS 336.010) specifically prohibits districts from holding school during that holiday.
After school activities providers such as CAP, the Boys and Girls Club, the YMCA, and Albany Parks and Recreation have been advised of the schedule change but if you have other after school child care arrangements please notify those persons yourself.
While winter is not over and more adverse weather is possible, I think you will agree that the above schedule revisions are the best possible solutions to a difficult situation.
Sincerely,
Kraig Sproles.